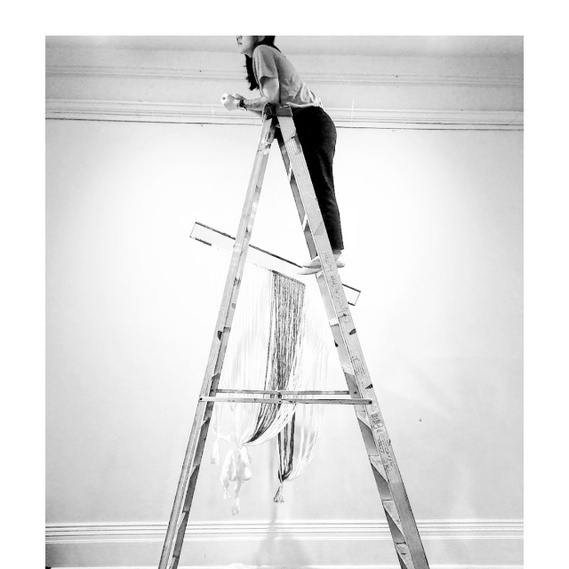 Charlize-Nhung. Nguyễn


Nhung-Charlize lives and works in the Greater Area of Toronto, Ontario. She received a Bachelor of Fine Art from Ontario College of Art & Design University. She completed a three-year artist-in-residence program at the Harbourfront Center. She had taught and participated in artists-panel talks about her works. Her recent series is a collection of mini sculptures named A Negative Space, which depicted her diaspora roots documented through patterns of human skin on metal. She is interested in bringing forth the intrinsic values of the human journey and its permanent impact on the body. She has participated in exhibitions and art fairs in Canada and Europe.
Statement | Full CV
Contact: Email
Media

2020 Craft Ontario Award Talk panel (virtual), Craft Ontario Association, Toronto
2020 Artists Panel, 59th Toronto Online Art Fair, online, www.youtube.com/watch?v=3XMHTLSiqsY
2020 Juror's Pick, 59thToronto Online Art Fair, https://torontooutdoor.art/news/2020/06/10/jurors-picks-toaf59
2020 Analog + Material AIR Program Recipient, www.careerlaunchers.format.com/7142776-2020-artists-in-residence-program-in-estonia, (web)
2019 20 Artists To Check Out at the Toronto Outdoor Art Fair 2019, NowToronto, www.nowtoronto.com/culture/art-and-design/2019-toronto-outdoor-art-fair/, July 9 (web)
2019 Interview, Artist of The Week, 16thCome Up To My Room, www.gladstonehotel.com/artist-week-charlize-nhung/, Dec 18(web)
2018 OCAD'S GRADEX2018: Four Women To Watch." She Does The City". April 3 (web)
2018 Awards and Medal Winners" OCAD University Review, May 3 (web)
2018 La Vanguardia Magazine, JOYA's Editorial Feature, Print, Barcelona, Spain
2018 Desire Homme Megazine, JOYA's Editorial Feature, Print, Barcelona, Spain
2018 JOYA Barcelona, Artist Catalog, Print, Barcelona, Spain
2018 The Journal of Gemmology, Publication Vol.36/No.4/, Great Britain, England
2018 International Meeting Collectiva, International Catalogue, Print, Porto, Portugal
2017 Artist Talk, Haystack Arts & Craft (7th Symposium), Main-Deer Island, USA
2011 Winner Award, Hoover & Strong + Society of North American Goldsmith, Press Release, (web)
2011 METALSMITH Magazine, Publication Vol.31/No.3, April, USA
2011 JCK Magazine (web), April
2011 National Jewellers Magazine (web) April
Land Acknowledgement
The land I am standing on today is the traditional territory of many nations including the Mississaugas of the Credit, the Anishnabeg, the Chippewa, the Haudenosaunee and the Wendat peoples and is now home to many diverse First Nations, Inuit and Métis peoples. I also acknowledge that Toronto is covered by Treaty 13 signed with the Mississaugas of the Credit, and the Williams Treaties signed with multiple Mississaugas and Chippewa bands.